Successful premiere for GOC camp
"We were at 95 per cent capacity," reports Mark Schulze-Altmann, the organiser responsible for the GOC camp. "We took the opportunity to have the world-class coaches already on site in Stuttgart," Schulze-Altmann continues. Over two days, six lectures and numerous private lessons were held in the Alte Reithalle as well as in an additional practice hall. With the support of Sergiu Luca, a guided practice was also held in the Alte Reithalle at the end of the first day.
Many couples were enthusiastic about the opportunity to work with such outstanding trainers. Accordingly, photos were diligently taken after the training sessions - when do you ever have the chance to immortalise yourself with so many role models and world champions?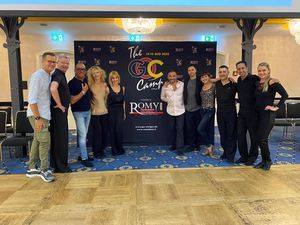 The participating coaches 2022:
Pietro Braga
Gioia Cerasoli
Edita Gozzzoli
Anna de Grande
Tatsiana Lahvinovich
Frederic Mosa
Olga Müller-Omeltchenko
Lasse Ödegaard
Fabio Selmi
Emanuel Valeri
Martino Zanibellato
The GOC camp was organised with the support of Romy Dance, the Italian market leader in dance and training shoes: www.romydance.it.
(Text and Photo: Lars Keller)